Used Benoit Knives 7/21/2018 call or email for prices.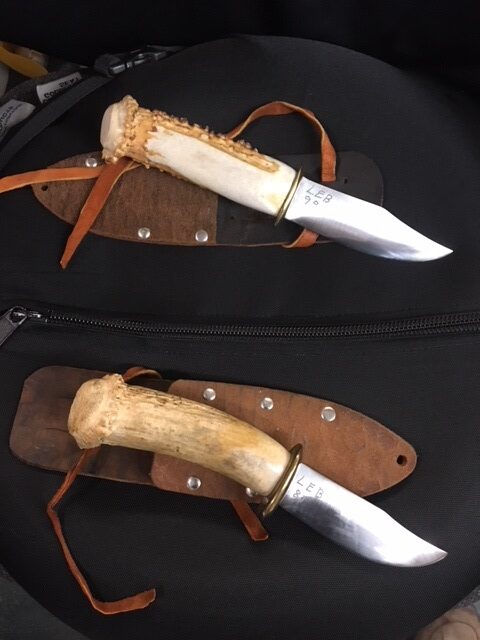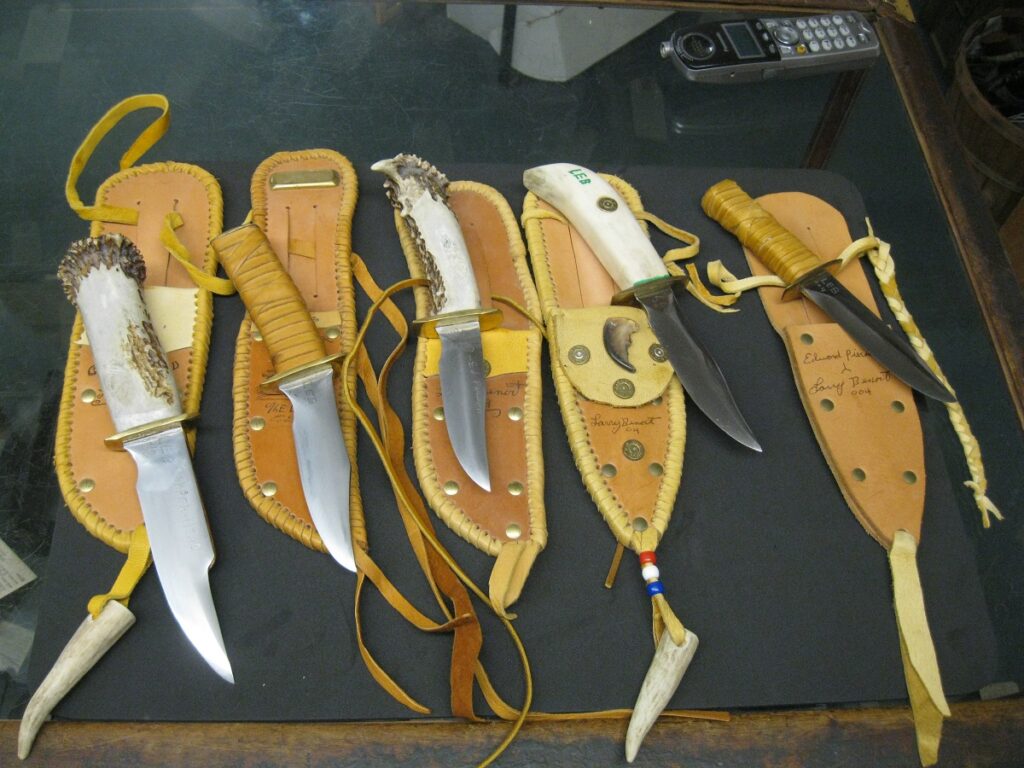 Looking for Beagle Wear Clothing Try Silent Predator Same if not better!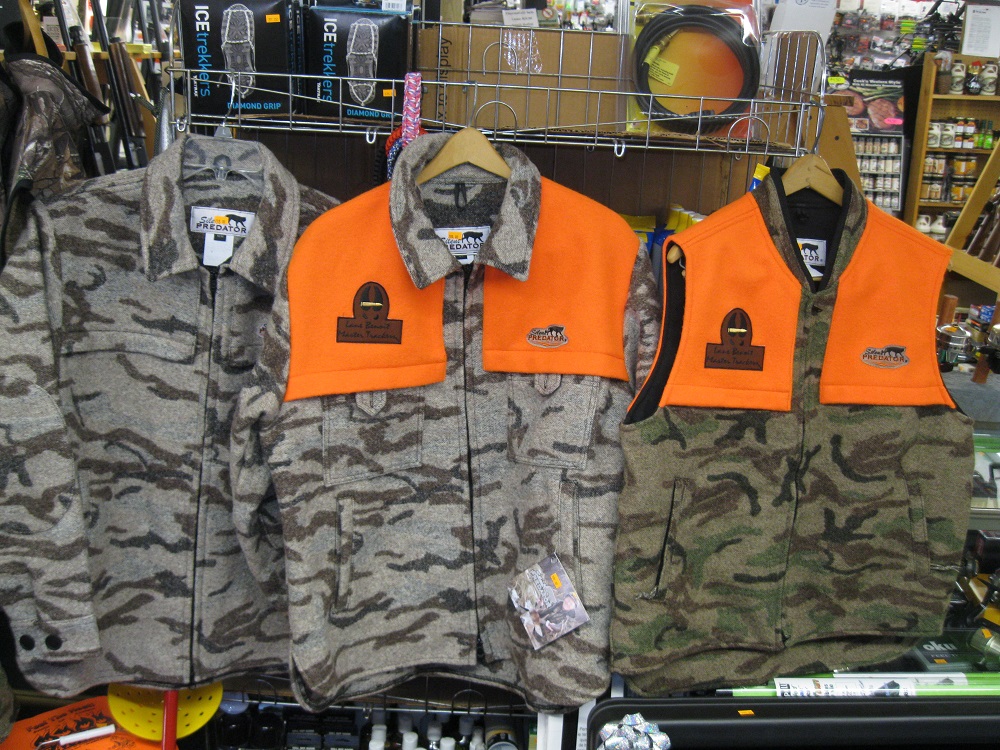 08 & 09 BENOIT SEMINAR PICTURES
BENOIT COLLECTABLES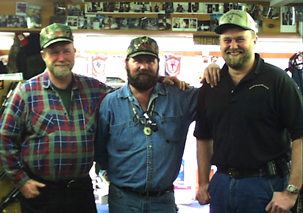 LANNY & SHANE WITH JIM @ MORSE'S OPEN HOUSEThe Benoits ; Larry, Lanny, Lane & Shane; are perhaps the most successful white-tail deer hunting family in North America. Year after year the Benoits without fail take the biggest bucks, weighing over 200 and sometimes even approaching 300 pounds! Their acclaimed series of hunting books and videos share their proven techniques for tracking & bagging trophy bucks.No serious deer hunter's library is complete without these awesome books & videos, and they make great gifts too!
BENOIT BUCKS
WHITETAIL TACTICS FOR A NEW GENERATION
by Bryce Towsley
Big Bucks the Benoit Way exhilarated readers with numerous true-to-life accounts of legendary hunting expert Larry Benoit. This highly anticipated follow-up volume details the "second generation" of the Benoit family. Adventure stories recount the excitement of the chase, sharing the secret strategies that led to success-or sometimes failure-and most importantly, what was learned from those hunting experiences. Detailed accounts tie humor with solid teaching on the fundamentals of whitetail hunting. Readers will find a generous dose of humor and inside stories from the deer camps of New England's first family of hunting. Considered the next best thing to having an expert take you hunting.  HC, 8 1/4 x 10 7/8, 224p, 16 page color section, 150 B&W photos.  $29.95 RETURN OF A CLASSIC!
HOW TO BAG THE BIGGEST BUCK OF YOUR LIFE

BY LARRY BENOIT
W/ PETER MILLER 2ND EDITION

$29.95 THE 1ST EDITION HAS BEEN OUT-OF-PRINT FOR YEARS–MINT COPIES HAVE SOLD FOR OVER $600!
DON'T MISS THIS OPPORTUNITY TO BUY A RE-ISSUED CLASSIC AT AN AFFORDABLE PRICE!
Hardcover, PHOTOGRAPHS BY PETER MILLER & JOHN RANDOLPH  ILLUS. BY ED VEBELL  2003 LYONS PRESS PO BOX 480 GUILFORD CT 06437 2010 Seminar Tape Just found     
NO FEAR Deer Hunting with the Benoits II
Join Lanny, Shane, and Landon Benoit on a whitetail hunting adventure. You'll follow the Benoits for two seasons in the big woods. You'll see Lanny Benoit track down two wilderness whitetails. Follow behind Shane Benoit and see how he locates and shoots two mature bucks. Landon Benoit takes a good ten pointer. In this fifth Benoit video you'll learn how to scout and locate big backwoods whitetails. Watch the Benoits teach students at the Benoit tracking school in northern Maine. Filmed over the shoulder reality style capturing the way the Benoits hunt.
New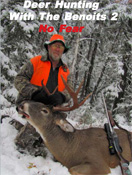 2008  BENOIT VIDEO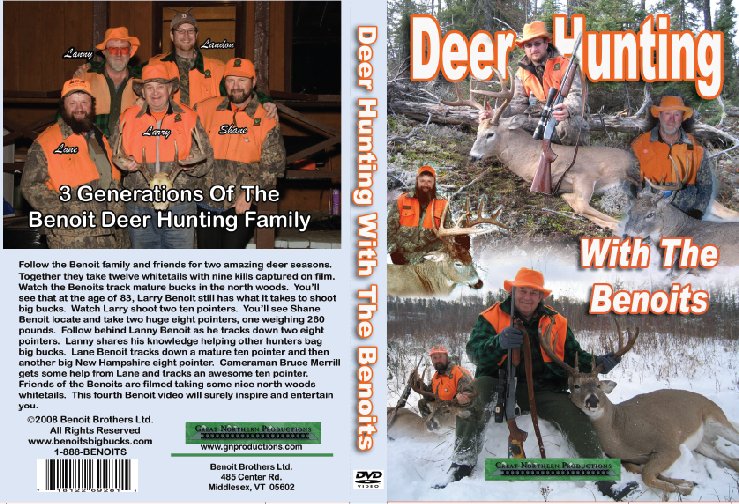 Follow the Benoit family and friends for two amazing deer seasons. Together they take twelve whitetails with nine kills captured of film. Watch the Benoits track mature bucks in the north woods. You'll see that at the age of 83, Larry Benoit still has what it takes to shoot big bucks. Watch Larry shoot two ten pointers. You'll see Shane Benoit locate and take two huge eight pointers, one weighing 260 pounds. Follow behind Lanny Benoit as he tracks down two eight pointers. Lanny shares his knowledge helping other hunters bag big bucks. Lane Benoit tracks down a mature ten pointer and then another big New Hampshire eight pointer. Cameraman Bruce Merrill gets some help from Lane and tracks an awesome ten pointer. Friends of the Benoits are filmed taking some nice north woods whitetails. This forth Benoit video will surely inspire and entertain you.
2006 Benoit VIDEOHUNT SMARTER NOT HARDER Sold Out
Learn how the Benoits scout and locate big woods bucks. Use deer calls to improve their success. Follow the Benoits for three deer seasons(2003-2005). Shane takes a huge 21 pointer, Landon shoots his best buck a 180″ 16 pointer, Lanny takes a 255 9 pointer , and Lane misses a big NH buck, then connects with a mature 10 pointer. Video producer Tom Blais shares his success using the Benoit's tracking tactics. Watch a buck shedding its antlers while Lanny is tracking it. This is Great Northern Productions third video with the Benoits, it will surely help you become a better hunter and will make you Hunt Smarter Not Harder.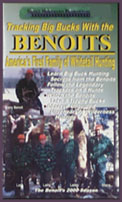 Tracking Big Bucks with the Benoits VIDEO
For the first time Larry Benoit and his three sons Lanny, Lane and Shane are filmed in this informative 'how to' hunting video.  You'll follow these legendary hunters tracking huge northern whitetails with weights close to three hundred pounds.  You'll go on hunts with each of the Benoits and learn their techniques on taking trophy deer.  Six northern whitetails are taken with some explicit kill scenes captured on video.  Watch unguided unrehearsed honest whitetail hunting.  Each year the Benoits without fail take out the biggest deer the area has to offer  The Benoits may well be the most successful deer hunting family in North America.  This awesome video is a must for any deer hunter.    
Tracking Big Bucks With The Benoits II
The Art Of Tracking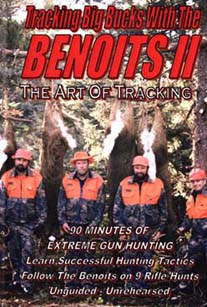 from the video jacket:

"Follow the Benoit brothers for two incredible years of deer hunting, taking nine mature northern whitetails. Learn techniques on the art of tracking deer. The 2001 season was a successful one for the Benoits, but it was difficult with few tracking days, warm temperatures and bare ground conditions. With conditions like these, see how the Benoits take four huge whitetails. Discover the techniques used to hunt northern bucks without snow….The 2002 season was a snowy one. The Benoits put their tracking skills to work, taking five big northern bucks. Lane takes his biggest buck ever, a massive 11 pointer….Follow master tracker Lanny Benoit and watch him track down two big woods bucks….Watch and learn in this wilderness adventure video."90 minutes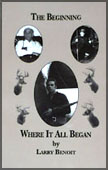 THE BEGINNING WHERE IT ALL BEGAN
by LARRY BENOIT

paperback, approx 150 pages
many b&w photos

Published by Benoit Enterprises 1992
$149.95 (Includes S&H) Very limited Quantity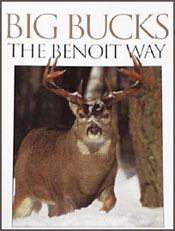 BIG BUCKS THE BENOIT WAY
Secrets From America's First Family of Whitetail Hunting

By Bruce Towsley, with Shane, Lanny, and Larry Benoit
The second book on the tried-and-true hunting strategies of the legendary Benoit family. This book has something for every one of America's white-tailed deer hunters. Hardcover, 185 photos, 35 in color.
Out of Print and Stock Call for used ones.
603-464-3444 2008-2009 2nd Edition 239 pages New pictures and stores added onto the older edition.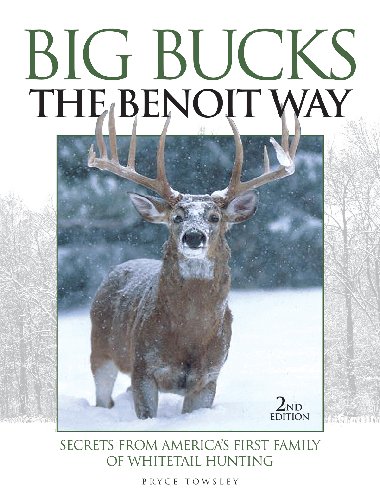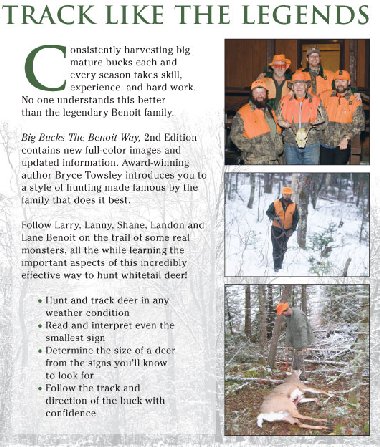 New 2nd Edition Big Bucks The Benoit Way $29.99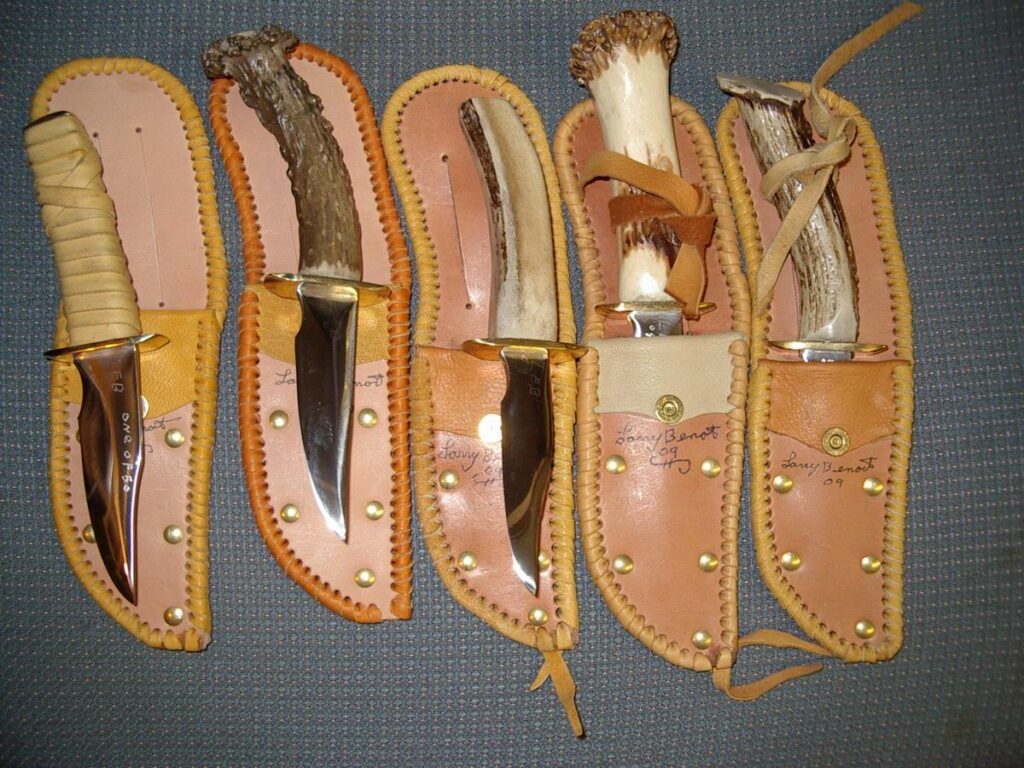 In stock knives shown below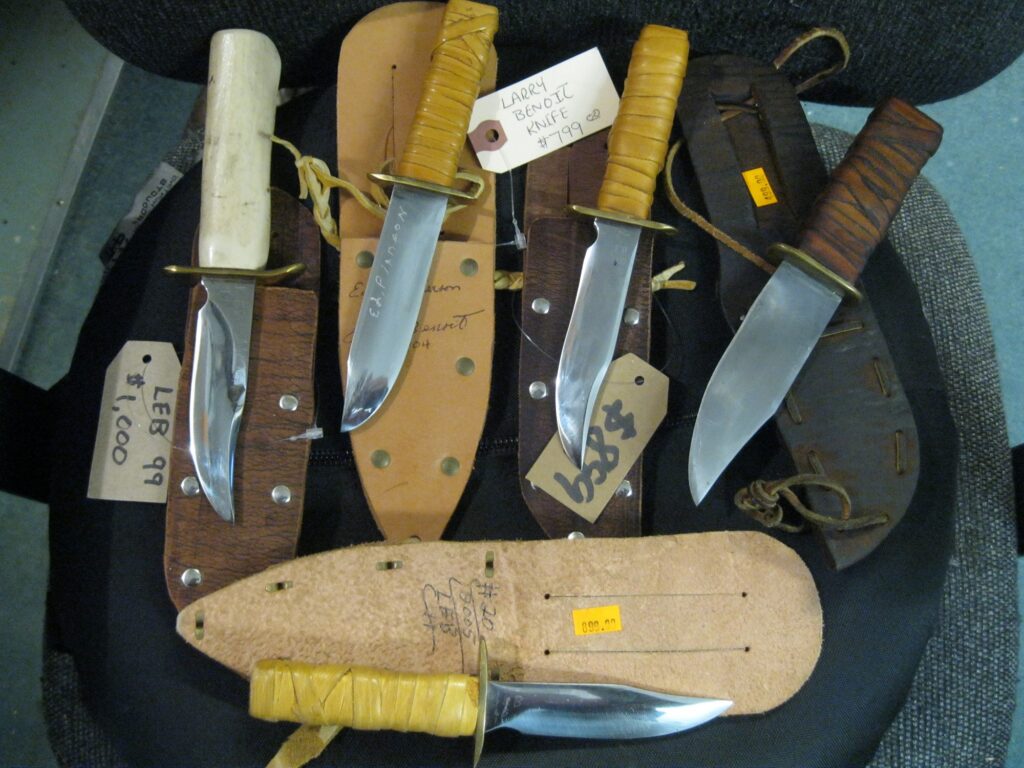 HAND-CRAFTED BENOIT KNIVES
LEATHER KNIFE HANDLE
STAG KNIFE HANDLE
Hand crafted by Larry Benoit. Sheath signed, knife initialed & numbered by Larry Benoit.
These knives all are different! If you have a special antler Larry will make it up for you, just call and make arrangements. The knives shown above are just examples of Larry's work.These knives are sold out, but sometimes we do get some used ones please call or check web page.
The limited edition Benoit rifle
The gold print says one of one Thousand but only 170 were made.
At this time we do have one for sale NIB signed Call for prices.
Collectable Benoit Whitetail Deer Hunting Coins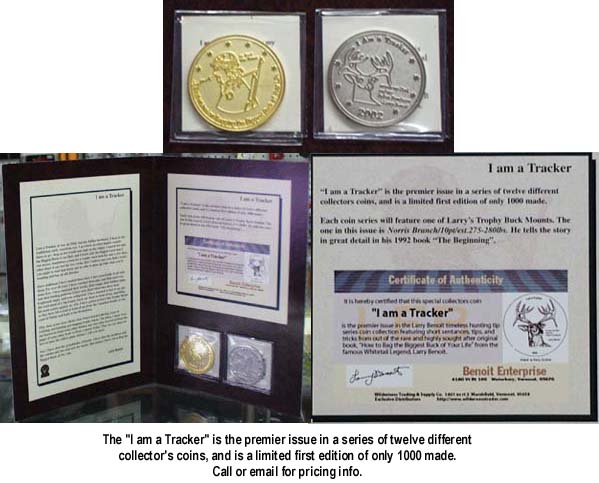 Online Ordering
Visit the links below to order Benoit products.
Book #1: How To Bag The Biggest Buck of Your Life, 2nd Edition
Video #1: Benoit 2010 Seminar Tape Limited Stock
Video #2: Tracking Big Bucks with Benoits II Sold Out
Video #3: Hunt Smarter Not Harder Sold Out
Video #4: Deer Hunting With The Benoits Sold out
Video #5: Deer Hunting with The Benoits 2 Sold Out
Book #2: Big Bucks the Benoit Way, 2nd Edition
Book #3: Benoit Bucks Whitetail Tactics for a New Generation